Question: What does a Condor dream about?
Answer: Soaring strong and healthy, in abundance of numbers, high above the majestic canyons of the southwest, free from the perils of man made litter…. and lead bullets; living in harmony with man.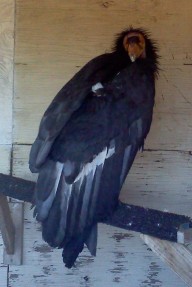 How do I come to know this or think of this? Because very recently, I had the rare good fortune of looking into the (very red) eye of a California Condor at point blank range while assisting in the feeding and hydrating of this magnificent creature.
 Last week a California Condor arrived at the local wildlife rescue center (where I volunteer) for emergency treatment of severe lead poisoning. Following my "Owl shift" on Thursday evening, my team mate, Terris, and I happened to be the ones on hand to assist Dr Kathy Orr with the tricky business of gently corralling and then treating our esteemed patient.  While the good Doctor and our small team kindly administered life sustaining fluids and food, I could not help but be drawn deeply into the Condor's soul as I gazed into its eye sending him calming thoughts of healing and love with all my heart. I understood from the level and concentrated return gaze of the Condor, that he knows we are there to help, but is deeply saddened by the unnecessary plight of its species. I sensed an ancient and wise soul who continues to cling to hope for survival on this earth, not just for its own species' benefit…but ultimately for the benefit and survival of all, including man.
Imagine a world devoid of the presence of Hawks, Eagles, Vultures, Condors, Owls, Ravens, and on I could go! Take a moment to look up in the sky and imagine never seeing the graceful soaring of a Red Tailed Hawk or Bald Eagle overhead. I shudder to imagine such a reality. As 50 species of bird, mammal and amphibian move closer to extinction each year, yet the global population of humans continues increase, what do you suspect is happening to the balance of nature? It is severely compromised and eventually OUR species will pay the ultimate price – we cannot exist alone. It is never too late to take steps toward conservation by doing what is within our individual power to help restore the balance. No action is too small.
Here is one small request; eliminate the use of lead bullets, pellets and BBs. There are other options, if a bullet must be used at all.
It is shocking to know that all condors and an incredible number of vultures, raptors and corvids suffer from varying degrees of lead poisoning. Sadly, we see too many of these cases come through our local rescue center, and despite great efforts, many don't survive. In fact, this is what is killing off the California Condor. How do these critters get lead poisoning? Just by doing what comes naturally; they look for and eat their usual foods, be it game that is not completely cleaned up by the hunter, or scoring critters that have been killed or wounded by gun use. Since there is still wide use of lead in ammunition, these winged gifts of nature unsuspectingly ingest the lead as well. Think about this; we condemned and tore down schools and homes that had lead based paint on the walls, took toys off the shelves that used lead parts or paint, banned the use of lead based paints – why? We understand perfectly the hazards of lead to humans, yet we overlook the hazards to creatures that are a fraction of our size, density and weight.
Nothing brought me closer to the alarming reality of "extinction" than gazing humbly into that beautiful Condor's eye. It is so heart warming to know there are many conservationists, biologists, and volunteers, who are dedicated to the rescuing of, caring for, and rehabilitation of these magnificent critters. I am wishing with all my heart for a successful recovery and returning our Condor guest to its natural home soon.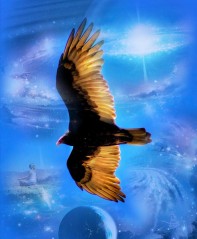 I hope you will join me and share in the California Condor's dream of strength, freedom, abundance and most of all, the balanced and harmonious coexistence of man and nature.
 In Love, Light and Harmony,
Andrea, Critter Doc